OUR FOOD PHILOSOPHY
Much like how winemaking is working in balance and cohesion with the elements, our Executive Chef Nik Tucker adapts to what produce the season brings him to create flavoursome dishes bursting with life on your plate—using his exceptional skills working with coals, to allow the natural flavours of the produce to shine through without overpowering the accompanying wine.
"St Hugo is renowned for powerful and elegant wines, and as the Executive Chef, my goal is to complement these wines with flavoursome, relaxed food," says Nik. "In everything I create, I aim to showcase the wines with high quality, fresh produce from local producers…that are genuinely passionate about their product. I am proud to be able to carry this philosophy through to St Hugo with the use of the onsite kitchen garden and excellent suppliers."
RESTAURANT
Our Chefs use regional and seasonal produce to create flavoursome, relaxed food to delight and entice our guests alongside our delicious wines. We look forward to welcoming you into our restaurant, to showcase the best epicurean experience for you and your guests. Bookings are essential.
Please note that we are a cashless venue.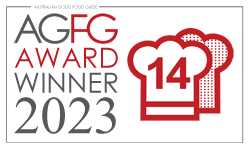 GROUP DINING
Looking to dine with the whole family or a large group of friends? We can cater to group dining here at St Hugo.
Eliminate the guesswork and enjoy one of our shared style menus, alongside delicious, award-winning wines in our private dining room, the Stone Lounge. Bookings are essential.
ST HUGO KITCHEN GARDEN EXPERIENCE + LUNCH
Dine with your own private chef in our beautiful surrounds.
Feed all your senses as you sip and cook your way through a menu personally hosted (and seasoned) by our Chef. In this experience you'll not only be a 'chef for a day' but you'll gain a real understanding of the relationship to wine and food that flows through everything we do here in the St Hugo kitchen.
AVAILABILITY & COST
11am, Friday and Sunday only. Allow approximately 3 hours.
$225 per person.
WHAT'S INCLUDED
A glass of Mumm Champagne to sip on as you take a tour of the Kitchen Garden. Then you'll pick seasonal produce from our kitchen garden to be used in the preparation of lunch, alongside Chef's expert guidance and assistance. Then enjoy your 'hard-earned' lunch accompanied by St Hugo wines.
NEED TO KNOW
This experience is hosted in the beautiful historic surroundings of the Jacob's Family Estate, just a short stroll from the St Hugo cellar door. Guests must be 18 years or over to participate in the experience.
LOOKING FOR THE ULTIMATE GIFT?
#STHUGO
Follow us on Instagram!